Lv 3 website
Pictures from the museum:
1940´s room
1950´s room
1960´s room
1970´s room
1980´s room
1990´s room
Exebition Hall
Downstairs
Phone:
+46 706 653 694
(During opening hours wed & sat)
E-mail:

Postal Adress:
Norrtalje Luftvarnsmuseum
Kaserngatan 1
761 46 NORRTÄLJE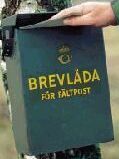 Denna sida pa svenska
The Anti-Aircraft Museum
In the museum there is a display about the Swedish Anti-Aircraft, its history, and over the former Third Anti-Aircraft Regiment (Lv 3).
The museum is located on August Strindbergs street 2, in the former Regimental area now called "Campus Roslagen". Norrtalje lies 70 Km northeast of Stockholm.
The museum is open for the public every Wednesday (except holidays) between 12-3 pm and Saturday between 1-4 pm. Or after booking in advance by phone or mail.
Single visitors or groups of 10-15 peoples are welcome. The admission fee is 40 SKR. (No credit cards)
Welcome!